Description:
The Sustainable Smart ÉTS Residence (StarÉTS) project is aimed at building a platform for supporting the research program of the Canada Research Chair (CRC) Tier 1 on Sustainable Smart Eco-Cloud held by Professor Mohamed Cheriet. It is also a part of the OpenSky Laboratory for Smart Living (Laboratoire à ciel ouvert de la vie intelligente).
A new class of smart grids and smart city applications will be developed on the platform, as a result of the Chair program, for the first green digital university campus in Canada; more specifically, to orchestrate a student residence and, ultimately the campus, with the help of cloud-based services, like virtual Internet Multimedia Subsystem (IMS), smart meters, and Web services. This can be viewed, albeit on a much smaller scale, as a smart city.
The multidisciplinary nature of this research has the main objective to create a sustainable link among emerging technologies, such as Future Internet, Smart city, smart grids, telecommunications, robotics and the Internet of Things (IoT). Serving a population of about 300 students (i.e. 100 rooms), StarÉTS is a real model for a smart city, where smart cloud services will be deployed, validated and improved.
The project comprises a Smart Home Prototype, in which some of the related research is tested and demonstrated. There are use cases implemented to showcase energy consumption, local production from renewables, and to reduce residential Greenhouse Gases (GHG) emissions. In the figure below, we show other use cases that might be implemented shortly. There is also a video with more details below.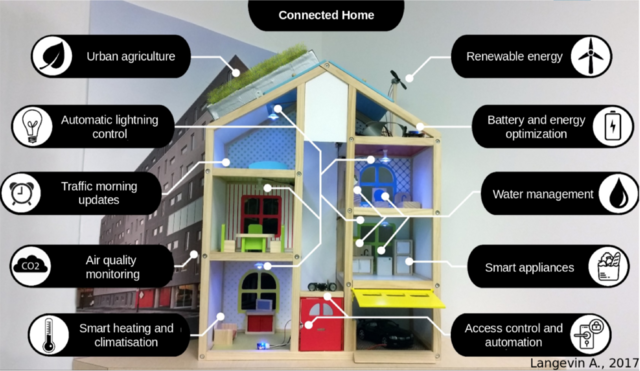 The StarÉTS platform is hosted in the Green Sustainable Telco Cloud infrastructure at ÉTS, the first cloud in the world to host Telco-grade services, funded by the NSERC, Ericsson, and Inocybe.
The StarÉTS project is funded by the Canadian Foundation for Innovation (CFI) under the Canada Research Chair for a period of 5 years starting in 2013, and Ericsson, and then by Ericsson and Videotron in the context of the OpenSky lab.
 Project partners:
CFI, CRC, ÉTS, Quartier de l'innovation, Ericsson Canada, Videotron.